....Monkey Olympics..Apinaolympialaiset....
....Monkey Olympics..Apinaolympialaiset....
....
1.5-3 hours
From improved morale to stronger working relationships, getting out of the office or factory for an awayday can have great benefits for your team. Monkey Olympics is a friendly, off-site competition for teams that combines physical and mental challenges with a fun twist.
Highlights include:
Get to know your workmates better through a series of fun, yet collaborative games

Explore individual and team strengths

Build trust among your team members

Laugh again like a kid and dare to have some fun
..
1,5-3 tuntia
Päivä toimiston tai tehtaan ulkopuolella voi vaikuttaa todella positiivisesti työskentelyilmapiiriinne, yhteistyöhönne ja koko työyhteisöönne. Apinaolympialaiset on leikkimielinen ulkona toteutettava kilpailu, joka rasittaa sekä kehoa että mieltä, unohtamatta pientä pilkettä silmäkulmassa.
Kohokohdat:
Tutustukaa toisiinne paremmin hauskojen, mutta yhteistyötä vaativien pelien tiimellyksessä

Löytäkää sekä yksilölliset vahvuutenne että tiiminne vahvuudet

Rakentakaa luottamusta tiimin sisälle

Naurakaa taas niin kuin lapset ja uskaltakaa pitää hauskaa
....
....
Enhance the cooperation of your team by having some serious fun
The most successful and memorable team building events don't feel like just another day at the office. Getting out and spending time together sharing an experience or working towards a common goal allows team bonding to happen organically and far more effectively. (Source: Forbes.com)
Monkey Olympics offers teams an opportunity to break away from daily routines and get to know one another outside of the normal working environment. The day includes a series of fun yet collaborative activities and challenges designed to meet your objectives.
For example, teams looking to enhance their team collaboration might play 'World Championships of Monkey Driver,' a game requiring everyone to come together in order to beat the previous teams on the Adventure Apes ranking list. For organizations looking to welcome a new team member, we might recommend a game we like to call 'Finnish baseball, rubber chicken.' It's perfect for team bonding and working towards a common goal.
These Olympics are suitable for everyone; they do not require any previous skills or a high level of physical fitness.
..
Parantakaa yhteistyötaitojanne samalla kun pidätte hauskaa
Apinaolympialaiset tarjoaa työyhteisöille mahdollisuuden irtaantua arjesta. Työkavereihin tutustuminen nousee aivan uudelle tasolle, kun siihen tarjotaan mahdollisuus normaalin työympäristön ulkopuolella. Olympialaiset pitää sisällään useita hauskoja aktiviteetteja, jotka vaativat tiimityötä ja kommunikaatiota yhteisiin tavoitteisiin pääsemiseksi. Onnistuneimmat ja ikimuistoisimmat tyky- tai virkistyspäivät toteutetaankin usein juuri arjesta poikkeavassa paikassa. (Lähde: Forbes.com)
Tiimit, jotka haluavat parantaa yhteistyötään haluavat ehkä osallistua Monkey Driverin MM-kisoihin. Kisoissa pärjääminen vaatii jokaista tiimin jäsentä. Ainoastaan parhaimmat joukkueet yltävät Seikkailuapinoiden ranking-listan kärkisijoille. Mikäli teille on tullut hiljattain uusia työntekijöitä, haluaisitte ehkä pelata kanapesäpalloa, joka erottelee jyvät akanoista.
Apinaolympialaiset soveltuvat kaikille, eikä niihin osallistuminen vaadi mitään ennakkotietoja tai kovaa kuntoa.
....
....
Details
Duration: 1,5 - 3 hours depending on the group size and wishes
Group size: 4-60
Gear needed: Normal outdoor clothing appropriate for the season, comfortable walking shoes and water bottle. All the special gear needed for the Olympics will be provided.
Transportation: Available on request.
Language: English or Finnish (Other languages are available on request)
Availability: Year round
Location: Tampere + Helsinki areas
..
Perustietoja
Kesto: 1,5-3 h ryhmän koosta ja toiveista riippuen
Ryhmäkoko: 4-60
Suositusvarustus: Normaalit säänmukaiset ulkoiluvaatteet, hyvät urheilujalkineet ja juomapullo. Kaikki erityisvarusteet olympialaisia varten tarjotaan.
Kuljetukset: Sovittavissa erikseen
Kieli: suomi tai englanti (muut kielet pyydettäessä)
Saatavuus: Ympäri vuoden.
Paikka: Tampere + Helsinki ympäristökuntineen
....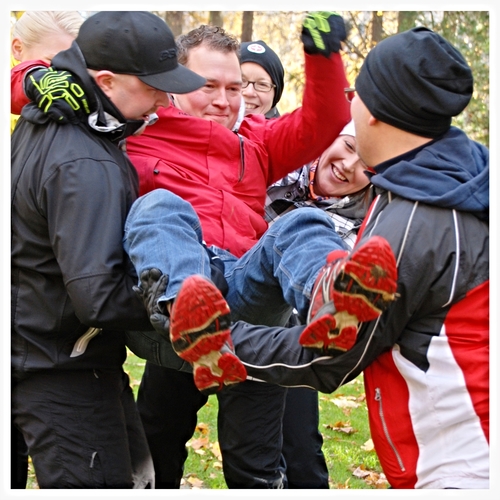 ....
Price
Every team is unique, your team building should be, too! We focus on creating a mix of activities that work with your group dynamics and business goals. After we know more about your needs, we will be happy to provide you with a custom quotation with full details.
Contact Adventure Apes for quote
Add-ons
It is also possible to combine the Monkey Olympics with our Outdoor Cooking Challenge, other outdoor sports like Nordic Walking, a biking tour or a relaxing sauna. We are happy to organise this activity next to meeting/conference facilities or a sauna. Contact us at heidi@adventureapes.fi and we are happy to send you a quotation with full details.
..
Hinta
Jokainen tiimi on erilainen ja niin pitäisi olla myös jokaisen tiimin tykypäivän! Me panostamme siihen, että tykypäivä tukee tiiminne ryhmädynamiikkaa ja liiketoimintanne tavoitteita. Kun tiedämme tarpeenne ja toiveenne, lähetämme teille yksityiskohtaisen tarjouksen, josta selviää kaikki tarvittavat asiat nopeasti.
Ota yhteyttä heidi@adventureapes.fi ja rakennamme teille sopivan paketin nopeasti.
Optiot
Apinaolympialaisiin on yhdistettävissä myös nuotiokokkaushaaste, tai muuta liikuntaa, kuten esimerkiksi sauvakävelyä tai polkupyöräilyä. Voimme järjestää tämän tykypäiväohjelman paikassa, jossa käytössänne on myös kokous- ja saunatiloja. Ota yhteyttä heidi@adventureapes.fi ja rakennamme teille sopivan paketin nopeasti.
....