....Finnish Lapland Winter Adventure..Talviseikkailu Lapissa....
....Finnish Lapland Winter Adventure..Talviseikkailu Lapissa....
....1 week +
We know that people dream about different things and that's why we are not offering you any bulk products. They just don't fit for everyone. We, Adventure Apes tailor made all our winter adventures in Finnish Lapland according to your wishes.
It doesn't matter if you are a family with five kids, extreme runner or a group of passionate nature photographers - we will build you the adventure of your dreams.
Thanks to a wide network of partners we are able to offer you the best above the Arctic Circle. You'll have your choice of a wide variety of destinations, activities and lodging and will be accompanied by our professional guide from the time you arrive to when you say your final goodbye.
.. 1 viikko +
Tiedämme, että ihmiset unelmoivat erilaisista asioista, ja siksi emme tarjoakaan valmispaketteja. Ne vain eivät sovi kaikille. Me Seikkailuapinoissa räätälöimme kaikki Lapin talviseikkailut toiveidenne mukaisiksi. Voitte olla viisilapsinen perhe, extreme-juoksija tai ryhmä intohimoisia luontokuvaajia - me toteutamme unelmienne seikkailun.
Laajan yhteistyökumppaniverkostomme ansiosta voimme tarjota parasta, mitä napapiirillä on antaa. Voitte valita laajasta valikoimastamme kohteita, aktiviteetteja ja majoitusvaihtoehtoja. Ammattitaitoinen oppaamme on mukananne aina saapumisesta jäähyväisiin asti.
....
....
Build Your Winter Adventure
We have a saying in Finnish: There is no such thing as bad weather, just bad gear. All of our adventures begin with gear and supply check to ENSURE you'll stay warm and comfortable during your adventures. We Also include a bit of safety training to help you get home safely.
At Adventure Apes, your adventure is built for you. Combine the rugged and luxurious or city time and experience the serene silence, the choice is yours. Here are some ideas to help you start dreaming of your perfect adventure.
Availability: 15 December to 15 April
Group size: 1 - 8 people
..
Räätälöi oma talviseikkailusi
Suomessa on tavattu sanoa, että ei ole huonoja kelejä, on vain huonoja varusteita. Aloitamme kaikki seikkailumme varuste- ja tarviketarkistuksella varmistaaksemme, että kaikilla on lämmin ja mukava olo seikkailun aikana. Retkiin sisältyy myös turvallisuuskoulutus, jotta kaikki pääsevät turvallisesti kotiin.
Seikkailuapinoissa seikkailusi räätälöidään sinulle sopivaksi. Yhdistä karua ja ylellistä, tai koe sekä kaupunkielämää että seesteistä hiljaisuutta, valinta on sinun. Tässä on muutamia ideoita, jotka auttavat sinua täydellisen seikkailun suunnittelussa.
Saatavilla: 15.12-15.4.
Minimi ryhmäkoko: 1 henkilö
Maksimi ryhmäkoko: 8 henkilöä
....
....
Winter Activities in Lapland
Go to ski school
Build a solid base for your upcoming winter sports adventures by attending a ski school. Your guide will teach you the basics of cross-country skiing, Also we can arrange for more advanced training based on your skills. If you prefer off-road conditions, we can Also try out forest skis.
Take a husky safari
We would like to introduce you to one of the sweetest dogs on this planet: huskies! At a husky farm you would learn the daily life of mushers, meet the dogs and if you are adventurous enough: take your own husky safari.
Travel by snowshoe
There are so many ways to travel in a Winter Wonderland. When its time for the huskies to take a break, we can take our snow shoes and walk on the thick blanket of snow.
Take a dip in the ice cold water
One Finnish tradition every adventurer shouldnt experience is the Finnish sauna. After a warm session we Finns like to take a little dip in a ice cold lake. It's an experience you will not soon forget!
Earn your reindeer driving license
Learn more about Arctic life by meeting a reindeer herder at one of the traditional reindeer farms. Take a reindeer safari and you might even earn your own reindeer driving license.
Take a snowmobile safari
Hit the road - or snow - by Snowmobiles. Some might like a test drive for just a few hours, while others apr enjoy a more challenging snowmobile safari; thanks to our wide partner network, we can make it happen. Thinking about going really remote? Let's take a drive to a remote wilderness cabin and stay a night there. Its totally up to you!
Meet Arctic animals
Ranua Zoo is a perfect place to learn about polar bears, moose, wolverine, arctic fox and many other arctic species. A trip to the zoo is a great way to meet and learn about the Arctic animals you might see during your adventure.
Visit museums
There are many interesting museums in Lapland. Check out the exhibitions thatwill take you on an educational adventure through the Finnish Lapland and the Arctic region or learn more about the native Sami people on a guided museum tour.
Try your luck fishing in winter
Winter fishing is something everyone shouldnt try at Least once in Their lifetime. It is a combination of relaxation and adventure. You can enjoy the beautiful winter landscape in a total silence one moment and feel the rush of catching a fish the next. Interested in a lake-to-plate lifestyle? Let's think about making a special dinner from your catch.
Test your survival skills
Test your survival skills by setting off-road on a ski trip into the most remote areas of Lapland. Test your navigation skills, make a fire without matches in Arctic conditions, pull your gear on a sledge behind you and take care of your nutrition and wellbeing. You can feel free to safely test your limits in the middle of nowhere while under the guidance of your professional guide.
..
Talviaktiviteetteja Lapissa
Osallistu hiihtokouluun
Rakenna luja pohja tuleville talviurheiluseikkailuillesi menemällä hiihtokouluun. Oppaasi opettaa sinulle hiihtämisen perusteet, ja voimme järjestää opetusta myös edistyneemmille hiihtäjille. Jos haluat kokeilla taitojasi latujen ulkopuolella, voit kokeilla myös metsäsuksiamme.
Lähde huskysafarille
Haluamme esitellä sinulle yhden maailman ihanimmista koiraroduista: huskyt! Huskyfarmilla pääset tutustumaan farmin päivittäiseen elämään, saat tavata koiria ja jos olet tarpeeksi seikkailunhaluinen, voit osallistua myös huskysafarille.
Kokeile lumikenkäilyä
Talven ihmemaassa on monta tapaa kulkea. Kun huskyt pitävät taukoa, voimme jatkaa matkaa paksun lumipeitteen päällä lumikengillä.
Pulahda jääkylmään veteen
Yksi suomalainen perinne, joka jokaisen seikkailijan pitäisi kokea, on suomalainen sauna. Lämmiteltyämme saunassa pulahdamme hyiseen järveen. Se on kokemus, jota et hevillä unohda!
Hanki poroajokortti
Tutustu arktiseen elämään tapaamalla poronhoitaja perinteisellä porotilalla. Voit myös lähteä porosafarille ja hankkia ikioman poroajokortin.
Lähde moottorikelkkasafarille
Lähde tienpäälle, tai siis lumenpäälle, moottorikelkalla. Jotkut haluavat lähteä vain muutaman tunnin koeajolle, toiset taas nauttivat vaativammasta moottorikelkkasafarista. Yhteistyöverkostomme avulla voimme järjestää kaikenpituisia kelkkasafareita. Haluaisitko ehkä lähteä jonnekin kauemmas? Ajetaan syrjäiselle erämaakämpälle ja yövytään siellä. Sinä saat päättää!
Näe pohjoisen eläimiä
Ranuan eläintarha on täydellinen paikka tutustua jääkarhuihin, hirviin, ahmoihin, napakettuihin ja moniin muihin arktisiin eläinlajeihin. Eläintarhassa vieraileminen on hyvä tapa oppia lisää arktisista eläimistä, sillä niihin törmääminen luonnossa on hyvin harvinaista.
Kiertele museoissa
Lapissa on monia mielenkiintoisia museoita. Käy katsomassa näyttelyitä, jotka vievät sinut valaisevalle seikkailulle Suomen Lappiin ja napapiirille, tai opi lisää saamelaiskulttuurista opastetulla museokierroksella.
Kokeile onneasi pilkillä
Jokaisen pitäisi kokeilla pilkkimistä ainakin kerran elämässään. Se on sekoitus rentoutumista ja seikkailua. Voit nauttia kauniista talvimaisemasta täydellisessä hiljaisuudessa ja seuraavassa hetkessä tuntea kalan nappaamisen innostuksen. Kiinnostaako järvestä pöytään -elämäntyyli? Miltä kuulostaisi illallinen itse pyytämästäsi kalasta?
Testaa selviytymistaitojasi
Testaa selviytymistaitojasi hiihtoretkellä Lapin syrjäisimmillä seuduilla. Testaa suunnistustaitojasi, sytytä nuotio ilman tulitikkuja arktisissa olosuhteissa, vedä omat varusteesi perässäsi ahkiossa, ja pidä itse huolta ravitsemuksestasi ja jaksamisestasi. Voit testata rajojasi turvallisesti keskellä erämaata ammattitaitoisen oppaan opastamana.
....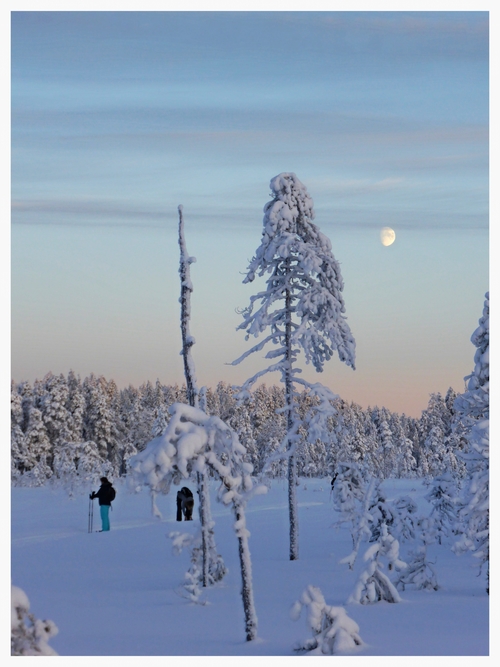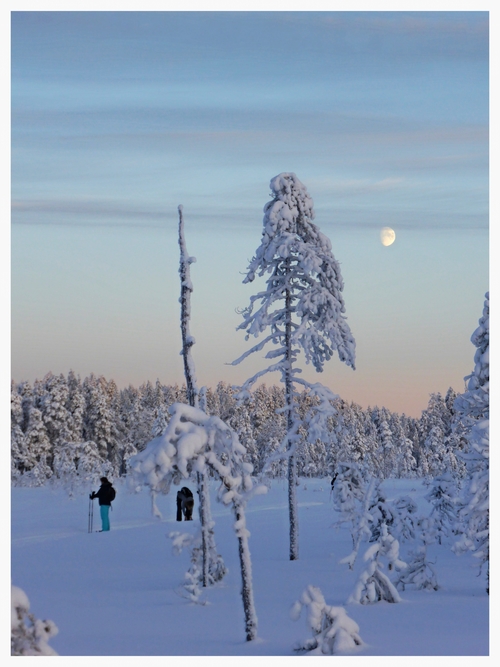 ....Accommodations in Lapland
Try winter camping
We know, it sounds cold. We'll make sure we have everything you need to stay comfortable during your winter camping experience. There is no better way to experience the breath of the Finnish Lapland, gaze at the shimmering stars and the Arctic, if you're lucky, catch the Northern Lights dancing overhead.
Sleep in a glass igloo or snow hotel
Can there be any better way to watch the Northern Lights dance than looking to the sky from the comfort of your bed nestled warmly inside a glass igloo? Maybe you'd prefer to experience a snow hotel for one night, we know One that is high class!
Build your own snow igloo
How would you feel about sleeping in a snow igloo built by you? The building process is fun for everyone, but only the bravest dare to sleep in Their Own snow castle. Are you in?
Price
Because all Adventure Apes tours are customized, the price of the tour depends on the group size, activities and accommodation you choose. Contact us to start planning your adventure and get more pricing information.
..
Majoitus Lapissa
Kokeile talvitelttailua
Tiedämme, että tämä kuulostaa jäätävältä. Ei hätää! Varmistamme, että sinulla on kaikki, mitä tarvitset tunteaksesi olosi mukavaksi talvisella telttaretkelläsi. Ei ole parempaa tapaa kokea Lapin avaruutta, kuin tuijottaa pohjoista tähtitaivasta ja jos onni on myötä, nähdä revontulien tanssivan taivaalla.
Nuku iglussa tai lumihotellissa
Voiko olla parempaa tapaa nähdä revontulia, kuin katsella niitä peittoon kääriytyneenä mukavasta sängystä lasikattoisen iglun katon läpi? Tai ehkä haluat mieluummin kokea yön lumihotellissa? Tiedämme yhden, joka on erittäin laadukas!
Rakenna oma iglusi lumesta
Miltä tuntuisi nukkua itse rakentamassasi iglussa? Rakentaminen on hauskaa kaikkien mielestä, mutta vain rohkeimmat uskaltavat nukkua itse tekemässään lumilinnassa. Tartutko haasteeseen?
Hinnat
Kaikki Seikkailuapinoiden retket ovat henkilökohtaisesti räätälöityjä, joten hinta riippuu ryhmäsi koosta ja valitsemistasi aktiviteeteista ja majoituksesta. Ota yhteyttä, niin voimme suunnitella seikkailusi ja antaa lisätietoa hinnoittelusta.
....