....Wild swimming in Northern Finland..Avovesiuintiseikkailu Kuusamon kirkkaissa järvissä ....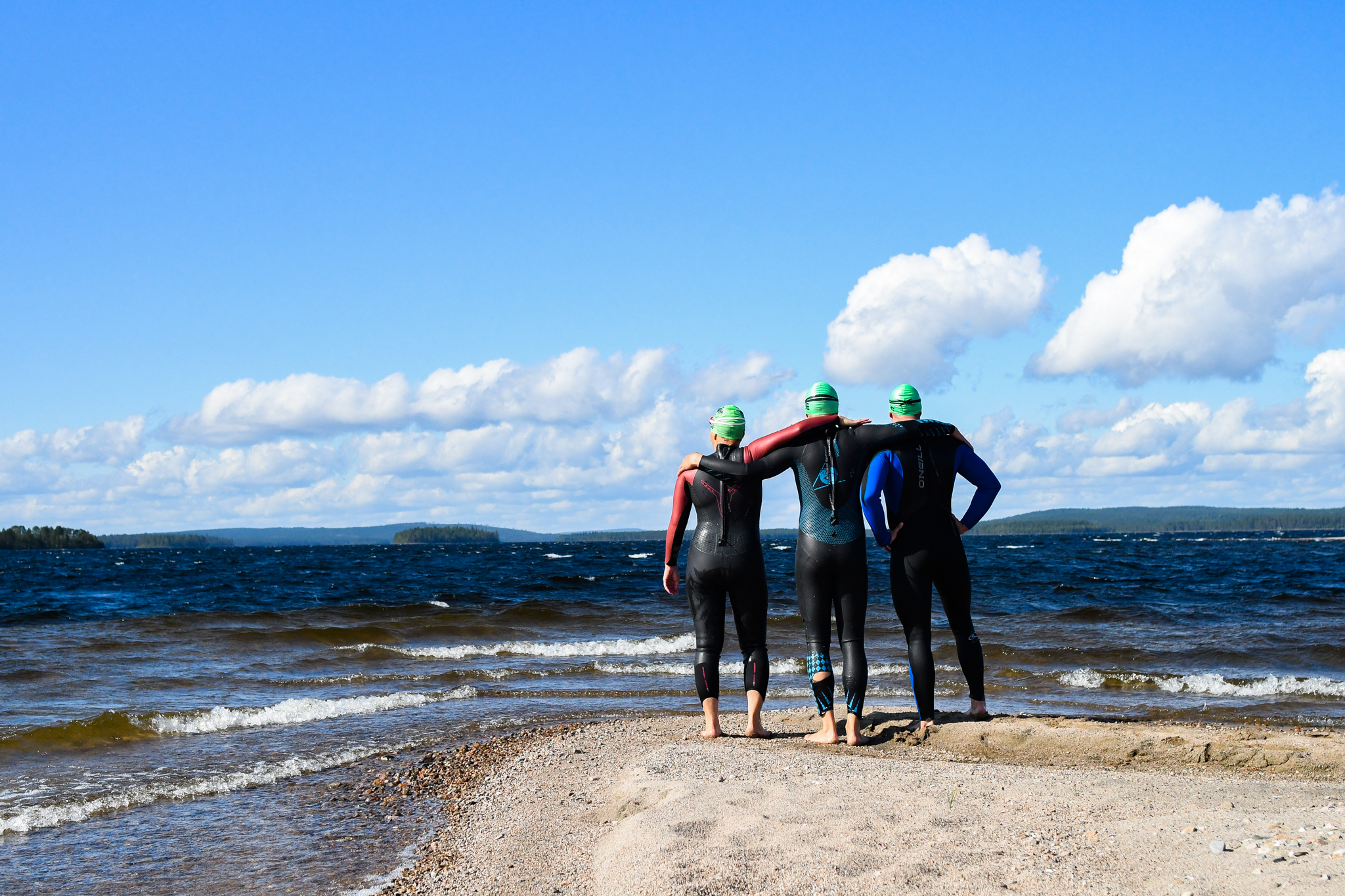 ....Wild swimming in Northern Finland..Avovesiuintiseikkailu Kuusamon kirkkaissa järvissä ....
....
Length: 7 days, 6 nights
Location: Northern Finland, Lapland, Kuusamo-Posio
Season: Summer
This one-week guided wild swimming tour takes you to the pure wild lakes and clean waters of Northern Finland and Lapland in the Kuusamo and Posio regions. Swim along sandy ridges in wild landscapes and in stunning fell sceneries and experience traditional Finland's cosy cottage life complete with relaxing saunas and meals by the fire.
Highlights:
Open water swimming in Europe's largest spring, in Lake Kitkajärvi

Deep canyon, narrow water swimming in the ice age gulch of Lake Ruoppijärvi

Wild swimming in Lake Livojärvi and underwater photography portraits in kettle hole lakes

Downriver swim in Oulanka river in Oulanka National Park

Small groups, 12 people or less
..
Kesto: 7 päivää, 6 yötä
Paikka: Kuusamo-Posio
Vuodenaika: Kesä
Ainutlaatuinen kansainvälinen avovesiuintiseikkailu vie sinut pohjoisen puhtaisiin vesiin nauttimaan uimisesta, tunnelmasta tunturien kainalossa ja rennosta yhdessäolosta majatalossa. Viikon mittaisella uintiseikkailulla uimme Kuusamon ja Posion kristallinkirkkaissa jylhissä järvissä, harjujen turkoosinvihreissä suppajärvissä ja Oulankajoen polveilevassa myötävirrassa. Unohtamatta rotkojärven jylhiä maisemia!
Kohokohdat:
Avovesiuintia Euroopan suurimmassa lähteessä, Kitkajärvessä

Uintiseikkailupäivä Ruoppijärven rotkojärvellä

Kauhotaan Livojärven kauniit rannat

Villiuintia ja vedenlainen valokuvaus suppajärvissä

Mukavasti myötävirtaan Oulankajokea
....
....
Details
Availability: June to September
Duration: 7 days, 6 nights
Group size: 5-12
Activity level: Experienced swimmers
Best suited for adults in normal fit condition, experience in open water swimming needed (at least ability to swim 2K at once). Swims can be adjusted for experienced pool swimmers, who are learning to swim outdoors. Note that we will swim in rain or shine so there may be rough conditions depending on the weather.
Gear needed: At least 2 swimming costumes, 1-2 swimming goggles including one tinted pair, 1-2 swim hats, slippers and trainers, wetsuit, warm sweater and water/windproof jacket, beanie/hat, gloves, waterproof sun cream, insect repellent, tow-float or dry bag
Transportation: Transfers from and to Kuusamo airport and local travel are included. Arrival by train to Rovaniemi or Kemijärvi and bus transfer is also available at additional cost. Please contact us for further information and pricing. Flights are not included.
Language: English, Finnish, Swedish
Booking: Pre-booking is required, contact us for availability
..
Yksityiskohtia
Kesto: 7 päivää, 6 yötä
Ryhmäkoko: 5-12 henkilöä
Vaativuus: kohtalainen uintiharrastuneisuus
Sopii normaalikuntoiselle aikuiselle, joka pystyy uimaan altaassa vähintään 2 km yhdellä uintikerralla (ei yhtäjaksoisesti) ja jolla on jonkin verran kokemusta avovedessä uimisesta. Uinteja voidaan tehdä hieman haastavissakin sääoloissa.
Varustesuositus: vähintään 2 uima-asua, 1-2 uimalasit - myös tummat uimalasit kirkaalle säälle, 1-2 uimalakkia, märkäpuku, uimarinpoiju/kuivapussi, sandaalit/lipokkaat ja lenkkikengät, lämmin väliasu, tuulen/sateen kestävä takki, hattu/pipo, hanskat, aurinkosuojavoide, hyönteiskarkoite
Kuljetukset: Kuljetukset Kuusamon lentokentältä majataloon ja majatalosta lentokentälle kuuluvat pakettiin. Mahdollista saapua myös junalla Rovaniemelle tai Kemijärvellä, joista ja jonne kuljetus sovittavissa eri hintaan. Ota yhteyttä ja kysy lisätietoja kuljetuksista.
Kieli: Englanti, Suomi, Ruotsi
Varaukset: Ennakkovaraus tarvitaan. Matkaliput eivät kuulu paketin hintaan.
....
....
Departures dates
This activity can be tailor-made! Contact us to book as a private tour, to customise the adventure, or for other departure options.
..
Saatavuus
Tilattavissa erikseen ryhmille myös muina ajankohtina. Ota yhteyttä, niin räätälöimme ryhmällesi juuri sopivan kokonaisuuden.
....
....
Summer 2020 departures
13 - 19 July
20 - 26 July
..
Kesä 2020
13. - 19. heinäkuuta 2020
20. - 26. heinäkuuta 2020
....
....
Summer 2021 departures
12 - 18 July
19 - 25 July
..
Kesä 2021
12. - 18. heinäkuuta 2021
19. - 25. heinäkuuta 2021
....
....
Swim the Arctic Circle Event 2020 and 2021
We are happy to arrange optional transfers to Swim the Arctic Circle Event 2020 and 2021 upon request. Please contact us for further information and pricing.
..
SWIM THE ARCTIC CIRCLE -tapahtuma 2020 ja 2021
Jos haluat yhdistää Swim the Arctic Circle -tapahtuman avovesiuintiseikkailuun, järjestämme kuljetuksen tapahtumaan tilauksesta. Tiedustele kuljetusjärjestelyjä ja hintaa.
....
Adventure programme - Wild Swimming in Northern Finland
....
Arrival at Adventure Apes Lodge and acclimatization swim
The tour begins with welcome lunch followed by a tour briefing and swim gear check. After a short walk to the village beach, we'll take a short acclimatization swim in Europe's largest spring; Lake Kitkajärvi. We will do a short water safety briefing including rescuing on the rescue board or canoe and the protocol for gathering together and swimming to shore in case of an emergency. After the swim, we will have a traditional Finnish sauna ready followed by dinner back at the Lodge.
Meals included: Lunch, Snack, Dinner
..
Saapuminen majataloon ja totuttelu-uinti
Aloitamme yhteisellä lounaalla, jonka jälkeen perehdymme viikon ohjelmaan ja tarkistamme, että kaikilla on tarvittavat uintivälineet. Kävelemme lyhyen matkan Vasaraperän kylän rantaan, jossa totuttelemme Kitkajärven lämpötilaan uimalla sopivan matkan. Teemme yhdessä vesiturvallisuusharjoituksia tulevia päiviä varten. Uinnin jälkeen nautimme majatalon saunan makoisista löylyistä illallisen kera.
Sisältää lounaan, välipalan ja illallisen
....
....
Hiking and swimming in gulch lake, Lake Ruoppijärvi
After a short drive, we will take a walk through the beautiful forested hill of Ruoppivaara. We will explore the high rocks and enjoy the views down to the ice age formed gulch Lake Ruoppijärvi and pristine forest. After taking in the magnificent views of the cliff and rocks, we'll hike down to the gulch lake and start exploring it up close with a 1.5 to 2.5-kilometer swim. In the middle swim, we will warm up in a sauna, eat lunch at a cosy summer cabin on the shore and test our luck fishing.
Meals included: Breakfast, Lunch, Snack, Dinner
..
Retkeilyä ja uintia Ruoppijärven rotkomaisemissa
Lyhyen ajomatkan jälkeen retkeilemme Ruoppivaaran kauniissa metsäisessä vaaramaisemassa. Nousemme ylös jyrkänteelle, josta avautuu upea näkymä alhaalla siintävälle Ruoppijärvelle ja vastakkaiseen koskemattomaan metsään. Laskeudumme jyrkästi alhaalla järven rannalla sijaitsevalle mökille, ja uintivarusteiden vaihdon jälkeen uimme rotkoa tutkiskellen noin 1,5-2,5 km. Uinnin jälkeen saunomme, syömme lounaan ja rentoudumme mökillä. Vielä ennen paluuta majataloon on mahdollisuus tehdä toinen lyhyempi uintikierros järvellä. Illansuussa palaamme majataloon, jossa odottaa illallinen.
Sisältää aamiaisen, lounaan, välipalan ja illallisen
....
....
Swim Tour in Lake Kitkajärvi, Europe's largest spring
Today we will get to know our home Lake Kitka by swimming in different parts of this vast sea-like lake and exploring the bays, points and islands. Swimming distances will be customized depending on the weather conditions and energy levels of the group. This may be the perfect day for picking wild herbs and berries for our outdoor snack and hearing about the flora and fauna of the area. We will also have a chance to try standup paddleboarding and canoeing.
Meals included: Breakfast, Lunch , Snack, Dinner
..
Avovesiuintia Kitkajärvessä, Euroopan suurimmassa lähteessä
Uintipäivä "kotijärvessä" eli kirkasvetisessä Kitkajärvessä. Merenkaltaisella Kitkalla uintikohteeksemme ja -reitiksemme valikoituu sääolojen mukaan suojainen lahti, niemien tai saarten kierrot tai selkävesi. Uintimatkan pituus päätetään päiväkohtaisesti ryhmän energiatason ja sääolojen mukaan. Päivän aikana on mahdollista tutustua sup-lautailuun ja melontaan sekä pohjoisten villiyrttien poimintaa ja makuihin.
Sisältää aamiaisen, lounaan, välipalan ja illallisen
....
....
Overnight trip to the sandy beaches of Lake Livojärvi, swimming under the midnight sun and wild camping in tents by the lake
On our drive to Lake Livojärvi (45 km), we'll get to know about the local history and way of life. We will visit an ancient wild reindeer pit system dating back to 3000 B.C. and the Akanlahti log transfer facility, which is the only remaining old log facility in Finland. On the Säikänsalmi beach, "the Riviera of Lapland", we'll have a break and snacks before heading to the beach of Kelliniemi. Here we will swim approximately 3 kilometres in shorter sections around the sandy cape. Lake Livojärvi has crystal clear drinkable water and beautiful scenery to surrounding fells.
After a campsite lunch, we will continue to another beach where we will wild camp in tents overnight. Tonight we will cook our campfire dinner together and swim under the midnight sun - something you will remember for the rest of your life. In addition, we will go to the wilderness sauna and enjoy the silence of nature.
Meals included: Breakfast, Camp lunch on the beach, Snack, Campfire dinner
..
Yönyliretki Livojärven harjumaisemiin, uintia ja yöttömän yön uintia Livojärven hiekkarannoilla
Ajomatkan (45 km) varrella Livojärvelle tutustumme paikallishistoriaan. Käymme esihistoriallisilla metsäpeuran metsästyskuopilla sekä Akanlahden tukinsiirtolaitoksella, joka on ainoa jäljellä oleva laatuaan. Nautimme välipalan Lapin Rivieraksi kutsutulla Säikänsalmen rannalla, minkä jälkeen siirrymme Kelliniemeen uimaan noin 3 km matkan sopivissa etapeissa. Uimme ympäri Kelliniemen hiekkaniemeä matalan ja syvän veden rajalla, missä äkkisyvä rinne ja kirkas tekee uinnista erityisen kokemuksen. Syömme tulipaikalla lounaan ja nautimme upeista tunturimaisemista.
Lounaan jälkeen siirrymme toiselle Livojärven niemelle, Hirsiniemeen, valmistautumaan telttayöhön ja valmistamaan yhdessä illallisen nuotiopaikalla. Uimme yöttömän yössä, saunomme telttasaunassa ja nautimme hiljaisuudesta ja Livojärven unohtumattomista maisemista.
Sisältää aamiaisen, nuotiolounaan ja -illallisen sekä välipalan
....
....
Wild swimming and snorkelling in Kettle Hole Lakes of Hirsiniemi
After breakfast, we will walk a beautiful hiking route along the Hirsiniemi cape in Lake Livojärvi and snorkel and swim in kettle hole lakes along the walking route. These clear, green groundwater lakes are marvellous sites for underwater photography so we will take few underwater portraits together. We'll rest and have snacks by lean-to shelters along the route. After hiking and wild swimming we'll return to the Lodge where we will have time to relax.
Meals included: Breakfast, Lunch, Snack, Dinner
..
Uinti- ja snorklausseikkailu Hirsiniemen suppalammissa
Aamiaisen jälkeen kävelemme Hirsiniemen vaellusreittiä pitkin ja ihailemme niemen molemmin puolin avautuvia näkymiä Livojärvelle. Pysähdymme reitin varrella kirkkaanvihreille suppalammille uimaan ja snorklailemaan sekä valokuvaamaan vedenalaisia muotokuvia. Levähdämme ja haukkaamme välipalaa reitin varrella olevilla laavuilla. Kävelyn ja uinnin jälkeen palaamme majataloon, jossa on aikaa rentoutua ja huilata.
Sisältää aamiaisen, nuotiolounaan, välipalan ja illallisen
....
....
Swimming downriver in Oulanka river in Oulanka National Park
After a lazy morning and sauna, we will head to Oulanka National Park where we will stop by the visitor's centre to learn about the Arctic flora and fauna before doing a short hike to see Kiutaköngäs rapids along the river Kitka. After a camp lunch, we will go down from the esker to the shore of Kitka and continue our adventure by downriver swimming. The river will carry us fast and we can mostly enjoy the ride.
In the evening at the Lodge we'll have a farewell party with a sauna and barbeque in the traditional Lappish Kota (BBQ hut).
Meals included: Breakfast, Lunch, Snack, Farewell Barbeque
..
Jokiuintia Oulangan kansallispuistossa
Rauhallisen aamiaisen ja aamusaunan jälkeen ajamme Oulangan kansallispuistoon, missä tutustumme arktisen luonnon ihmeisiin luontokeskuksessa. Teemme kävelyretken ainutlaatuiselle Kiutakönkään koskelle. Lounaan jälkeen kuljemme alas harjua Kitkajoen rantaan ja lähdemme uimaan jokea myötävirtaan, joka vie meitä kevyesti ja vauhdilla eteenpäin.
Illalla saunomme majatalossa ja juhlimme uintiseikkailun päättäjäisiä kodassa.
Sisältää aamiaisen, ounaan, välipalan ja jäähyväis-BBQ:n
....
....
Time to say Goodbye, transfer back to the airport
We like to say a great adventure never ends; it merely changes form to become part of who you are. After today your Finnish wild swimming tour will transform into some of your best memories as you continue your travels back home.
Meals included: Breakfast
..
Avovesiuintiseikkalun päätöspäivä
Avovesiuintiseikkailu päättyy ja uskomme, että koit unohtumattomia uintihetkiä pohjoisen kirkkaissa vesissä ja jylhissä maisemissa. Pisara pohjoista tulee kulkemaan mukana muistoissasi
Sisältää aamiaisen
....
Accommodation
The accommodation for this adventure is at Adventure Apes Lodge in the countryside of Kuusamo. Once a public primary school, the guesthouse has been newly renovated to provide clean and cosy, standard-level accommodations. The dorm-style rooms have bunk beds with private bathrooms and up to six people per room. Bedlinen and towels are included. A traditional wood-heated sauna is available every day.
One night will be spent in tents wild camping by the lake with two-three people sharing a tent. Sleeping bags, sleeping mattresses and towels will be provided and there is an eco-toilet for use on the site. In the evening you will have a chance to relax in the wilderness sauna.
Pricing and inclusions
Please contact us for pricing
This adventure is priced per person including VAT and does not include flight, train or bus tickets.
Please note that modifications to the program and activities are possible due to weather and/or safety reasons.
Tour includes all:
Accommodations as indicated above

Transfers - Travel to and from Kuusamo airport and all local travel indicated in the adventure program

Meals and activities as shown in the program (At Adventure Apes there are no surprise activity costs, all activities included in the program are included in the price!)

Guide services - private, professional Finnish/English/Swedish speaking swim guide and swim safety escort staff

Liability insurance of Adventure Apes
Tour does not include
Hotels before or after the start of the tour

Airfare or other transportation before or after the start of the tour

Personal outdoor clothing and swim gear (A complete recommended gear list will be provided before the tour)

Single room accommodation

Meals, snacks or drinks other than those listed and alcoholic drinks

Travel insurance (Travel insurance is required and should cover possible evacuation from the wilderness by helicopter)